CertiflexDimension Ultra MICR Check Printing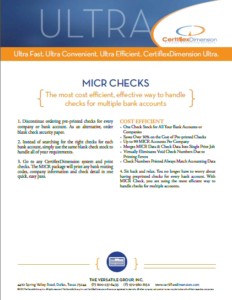 CertiflexDimension Ultra MICR Check module is a powerful Check Generator that actually takes blank security paper and produces a bank acceptable check. You'll never have to run to the printer again.
CertiflexDimension Ultra MICR module will work with an unlimited number of companies, bank accounts, and signature combinations. Using the advanced magnetic encoding feature, you can create checks with the correct numbers for each account without having to order new checks with every new account and pricing during data entry.
To learn more about MICR Check Printing, download the features brochure, request more information or call us today at 1-800-237-8435!