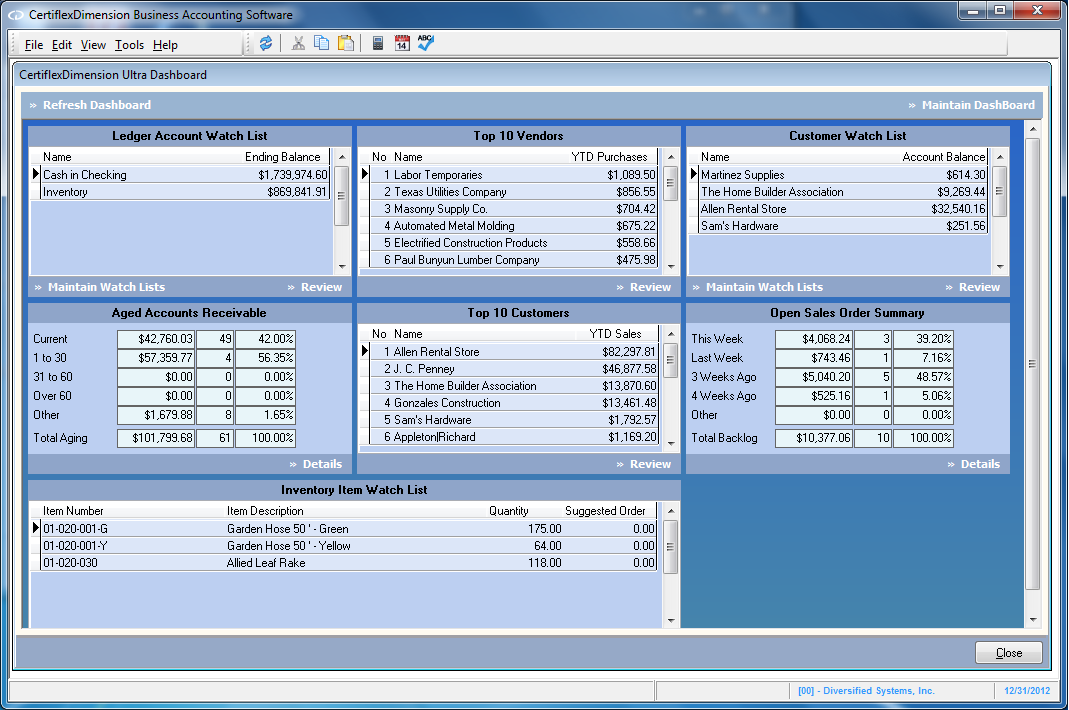 Payables. Inventory control. Job Cost. Accounts Receivable. Forecasting. Any of these tasks and more might occupy your day. You need a tool that is as flexible and productive as you are, that can expand as your business grows, and that will perform efficiently and effectively.
CertiflexDimension Ultra business accounting software will meet those demands. Whether you're a bookkeeper, data entry clerk or controller in the business office of a manufacturing firm or a CPA in a professional practice, you'll enjoy the ease in which CertiflexDimension Ultra fits into your environment.
Divided into functional modules, CertiflexDimension Ultra, assures accuracy, flexibility, and reliability. Hundreds of industry-leading features are designed to provide more timely financial information and empower you with better control.
"We switched over from a "high end" back-office system several years ago and our annual IT cost savings are amazing.  Our annual software maintenance cost is a fraction of what it was and we no longer need a part time in-house database admin.  They even have direct customization services which we have used to make a couple of our processes more cost effective for us to run."
"I've only been running CertiflexDimension Ultra for a little over a year now, but I have used four other accounting systems in the past.  It has just the right blend of accounting rules that keeps me happy as a controller, but at the same time it is flexible enough to allow my accounting department to get their jobs done in a fast and efficient manner."
"We have been using CertiflexDimension Ultra accounting software for over 35 years.   It has been a very important part of being able to grow our business.  Love their support which has always been prompt and helpful.  Support has been instrumental in getting some of our suggestions added to the CertiflexDimension Ultra software over the years.  It is really nice to deal with such a great group of real people."