CertiflexDimension Ultra General Ledger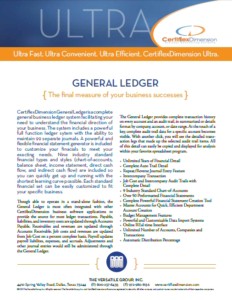 CertiflexDimension Ultra General Ledger is a complete general business ledger system facilitating your need to understand the financial direction of your business. The system includes a powerful full function ledger system with the ability to maintain 99 separate journals. A powerful and flexible financial statement generator is included to customize your financials to meet your exacting needs. Nine industry standard financial types and styles (chart-of-accounts, balance sheet, income statement, direct cash fl ow, and indirect cash fl ow) are included so you can quickly get up and running with the shortest learning curve possible. Each standard financial set can be easily customized to fit your specific business.
Though able to operate in a stand-alone fashion, the General Ledger is most often integrated with other CertiflexDimension Ultra business software applications to provide the source for most ledger transactions. Payable, liabilities, and inventory costs are updated through Accounts Payable. Receivables and revenues are updated through Accounts Receivable. Job costs and revenues are updated from Job Cost on a percent complete basis. Payroll updates payroll liabilities, expenses, and accruals. Adjustments and other journal entries would still be administered through the General Ledger.
The General Ledger provides complete transaction history on every account and an audit trail, in summarized or detailed format by company, account, or date range. At the touch of a key, complete audit trail data for a specific account becomes visible. With another click, you will see the detailed transaction legs that made up the selected audit trail items. All of this detail can easily be copied and displayed for analysis within your favorite spreadsheet program.
To learn more about General Ledger, download the features brochure, request more information or call us today at 1-800-237-8435!