CertiflexDimension Ultra Order Entry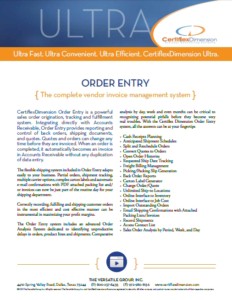 CertiflexDimension Ultra Order Entry is a powerful sales order origination, tracking and fulfillment system. Integrating directly with Accounts Receivable, Order Entry provides reporting and control of back orders, shipping documents, and quotes. Quotes and orders can change anytime before they are invoiced. When an order is completed, it automatically becomes an invoice in Accounts Receivable without any duplication of data entry.
The flexible shipping system included in Order Entry adapts easily to your business. Partial orders, shipment tracking, multiple carrier options, complex carton labels and automatic e-mail confirmations with PDF attached packing list and/or invoices can now be just part of the routine day for your shipping department.
Correctly recording, fulfilling and shipping customer orders in the most efficient and cost effective manner can be instrumental in maximizing your profit margins.
The Order Entry system includes an advanced Order Analysis System dedicated to identifying unproductive delays in orders, product lines and shipments. Comparative analysis by day, week and even months can be critical to recognizing potential pitfalls before they become very real problems. With the CertiflexDimension Ultra Order Entry system, all the answers can be at your finger tips.
To learn more about Order Entry, download the features brochure, request more information or call us today at 1-800-237-8435!