CertiflexDimension Ultra System Manager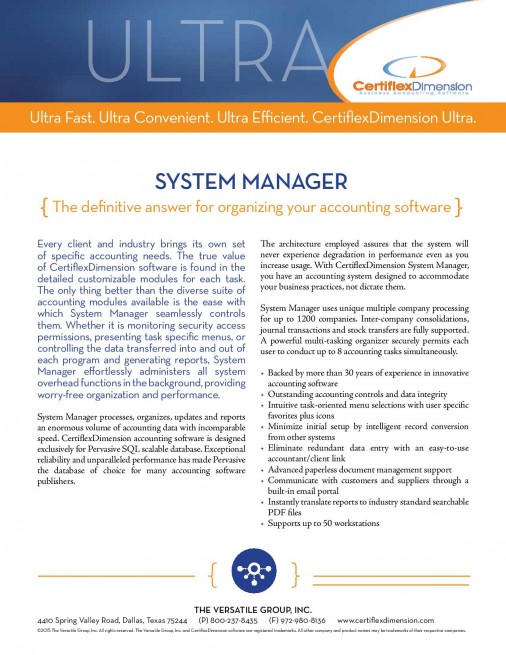 CertiflexDimension Ultra includes a diverse suite of results-oriented accounting modules. Harnessing the power of these precision application modules requires intelligence and creativity. Menus to guide each user through their assignment must be presented, data in to and out of each program must be controlled, results oriented reports must be generated, and restrictive security access must be monitored. These responsibilities and many others are astutely controlled in the background by the System Manager module. Performing like a seasoned veteran, this versatile software accurately administers all system overhead functions without operator intervention.
System Manager processes, organizes, updates, and reports an enormous volume of accounting data with incomparable speed. The CertiflexDimension Ultra accounting software is designed exclusively for Pervasive.SQL scalable database. Exceptional reliability and unparalleled performance has made Pervasive the database of choice for many accounting software publishers.
The architecture employed assures that the system will never experience degradation in performance even as you increase usage. With the CertiflexDimension Ultra System Manager, you have an accounting system designed to accommodate your business practices, not dictate them.
System Manager uses unique multiple company processing for up to 1200 companies. Intercompany consolidations, journal transactions and stock transfers are fully supported. A powerful multitasking organizer securely permits each user to conduct up to 8 accounting tasks simultaneously.
To learn more about System Manager, download the features brochure, request more information or call us today at 1-800-237-8435!