CertiflexDimension Ultra Job Cost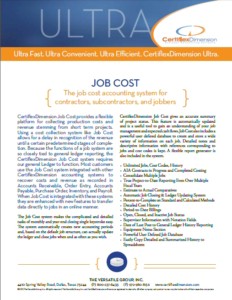 CertiflexDimension Ultra Job Cost provides a flexible platform for collecting production costs and revenue stemming from short term projects. Using a cost collection system like Job Cost allows for a delay in recognition of the revenue until certain predetermined stages of completion. Because the functions of a job system are so closely tied to general ledger reporting, the CertiflexDimension Ultra Job Cost system requires our General Ledger to function. Most customers use the Job Cost system integrated with other CertiflexDimension Ultra accounting modules to recover costs and revenue as recorded in Accounts Receivable, Order Entry, Accounts Payable, Purchase Order, Inventory, and Payroll. When Job Cost is integrated with these systems they are enhanced with new features to transfer data directly to jobs in an online manner.
The Job Cost system makes the complicated and detailed tasks of monthly and year-end closing single key-stroke easy. The system automatically creates new accounting periods and, based on the default job structure, can actually update the ledger and close jobs when and as often as you wish.
CertiflexDimension Ultra Job Cost gives an accurate summary of project status. This feature is automatically updated and is a useful tool to gain an understanding of your job management and expected cash flows. Job Cost also includes a powerful user defined database to create and store a wide variety of information on each job. Detailed notes and descriptive information with references corresponding to jobs and cost codes is kept. A flexible report generator is also included in the system.
To learn more about Job Cost, download the features brochure, request more information or call us today at 1-800-237-8435!